Best learning apps for kids | The education industry has undergone a huge transformation. Your children can learn something new today in a safe online environment. They seek to make learning fun and interactive. If you have access to the internet at home, here is a list of fun, educational apps for kids as well as phone and tablet apps to help keep kids learning. These educational apps for kids are fun while offering online teaching games, printables, videos, and so much more.
Most apps include reading and math games, videos, stories, and more and all indicate what are age and grade-appropriate. Lessons in such topics are often delivered in manners disconnected from a student's daily life. There are just so many fantastic apps out there that can strengthen or review skills that you have covered or even help you supplement the curriculum you are using to teach your children.
Some of the best kid's online learning apps include Starfall, Khan Academy, PBS Kids, Highlights Kids, National Geographic Kids, Smithsonian Learning Lab, Youtube Kids, Duolingo, ABCMouse.com, etc.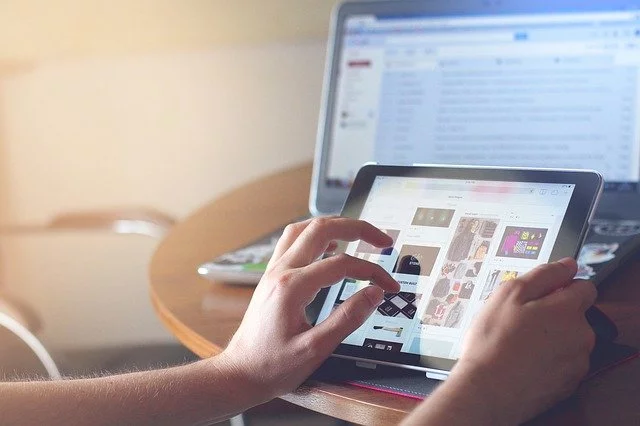 YouTube Kids
YouTube Kids is an app specifically designed for kids, makes it easier for children and parents to find the content they are interested in. It is an American children's video app developed by YouTube, a subsidiary of Google. First released on February 15, 2015, as an Android and iOS mobile app. The child-friendly video-sharing app is free to download for Android and iOS. 
YouTube Kids was created to give children a more contained environment that makes it simpler and more fun for them to explore on their own, and easier for parents and caregivers to guide their journey as they discover new and exciting interests along the way. The YouTube Kids app has popular children's videos and diverse new content, delivered in a way that's easy to use for children. 
YouTube Kids, a separate and simple-to-use app for tablets, smartphones, and smart TVs, is a world of learning and fun made just for kids. We'll share strategies to help you create high-quality programming that can be eligible for YouTube Kids, as well as tips to help viewers easily find and enjoy your content on the app.
PBS Kids
PBS Kids is the brand for most of the children's programming aired by the Public Broadcasting Service (PBS) in the United States. Parents need to know that PBS KIDS is an educational, jam-packed-with-fun site full of games, videos, and quests featuring kids' favorite PBS television show characters. Try sing-a-long songs, sorting and counting games, watch videos, and more.
PBS KIDS is a simple, safe first online experience for preschoolers, we don't recommend they surf around on the Internet, so make sure they stay on this site by sitting right next to them and helping them learn safe and fun online skills. Of course, there are new friends, too, such as Peg + Cat. Select games by character, difficulty level, or latest available. The educational site also has a huge library of printables for your child to work on.
Kids who are learning basic skills and already know many of the characters featured here from popular PBS shows such as Sesame Street and Curious George will enjoy playing games with their television friends.
Duolingo
Duolingo is designed to teach young children how to read English. It is among the best free apps that teach a new language. The app will also teach you not only new languages but also sentences and phrases as well. Furthermore, there is the Duolingo Owl. Learning will not be boring and difficult anymore, as Duolingo brings it in a really gleeful way. 
It offers unique features and a user-friendly structure which makes learning new languages and sharpening skills both simple and fun for its users. The app, called Duolingo ABC, uses short lessons made to help teach the alphabet, phonics, and sight words to kids ages three through six. 
Most kids today are very much fascinated with people speaking other languages. This app can be used by kids, as well as adults, who would like to learn a new language. The ad-free app is now available in the U.S., U.K., Ireland, Australia, and New Zealand. It includes more than 300 short lessons that teach basic reading and writing skills. 
Starfall
Starfall is owned and managed by the Starfall Education Foundation. It is a nonprofit organization, was conceived by Dr. Stephen Schutz. As a child, Stephen had difficulty learning to read due to dyslexia. He wanted to create a website with untimed, multisensory interactive games that allow children to see, hear, and touch as they learn. The main demographic is preschoolers and kindergarteners. It is a partly free web-based integrated environment to teach basic reading and writing, math, and arts, from age 3 to 8 (US prekindergarten, kindergarten to grade 3). Originally, the environment focused on reading skills.
Starfall activities are research-based and align with Individual and Common Core State Standards in English language arts and mathematics. Students from a variety of learning backgrounds (ELLs, those with language delays, etc.) can use Starfall to explore literacy concepts at their own pace or to build basic math skills and fluency. Starfall's emphasis on phonemic awareness, systematic sequential phonics, and common sight words in conjunction with audiovisual interactivity has proven effective in teaching emergent readers.
Established in 2002, the website is free to use and does not use advertising to generate revenue. The cost of running it is instead covered by money from Blue Mountain Arts, as well as the money made from its workbook printouts." It is widely used in schools that serve children with special needs and learning difficulties. Its low-cost membership program expands the free content to include animated songs, mathematics, and reading activities spanning K-3. Membership also supports the production of new books, songs, educational games, and movies.
Khan Academy Kids
Khan Academy is an American non-profit educational organization. It was founded in genuine and humble roots in 2004 by Salman Khan, who used the initial videos to help tutor one of his cousins. Khan Academy offers practice exercises, instructional videos, and a personalized learning dashboard that empower learners to study at their own pace in and outside of the classroom. 
The organization produces short lessons in the form of videos that serve as lectures on over 5,000 different topics. It tackles math, science, computing, history, art history, economics, and more, including K-14 and test preparation (SAT, Praxis, LSAT) content. Khan Academy website users can maintain records of their progress. Through the website, teachers can also monitor the progress of students who are using the site.
Highlights Kids
Highlights Kids the online counterpart to the classic Highlights magazine, features reading- and writing-based, scientific, and artistic activities. Highlights for Children is an American children's magazine. It began publication in June 1946, started by Garry Cleveland Myers and his wife Caroline Clark Myers in Honesdale, Pennsylvania. The magazine for kids that's been around for more than 60 years now offers online ways to play, read and craft with your children. It's also a place to get tons of educational resources, including activity and learning workbooks, arts and crafts supplies, science kits, and more. 
Matching games, art activities, animated stories, and science experiments are just a few ways kids can learn while having fun on the Highlights for Kids website. They can also access more than a dozen online art activities, like virtual castle construction, and watch videos of kids telling jokes. The site also has word search, hidden pictures, and other games; kids can also submit content, such as drawings and jokes, for the print magazine.
Highlights offer subscriptions for kids called Clubs, and every few weeks kids will receive a new kit from that collection. Clubs include Mathmania, Top Secret Adventures, and various puzzle clubs. Kids can check out 10 recipes, instructions for more than 40 craft projects, and more than 45 science experiments.
Smithsonian Learning Lab
Smithsonian Learning Lab is an interactive website for the discovery and creative use of the Smithsonian's digital collections and tools – more than a million images, videos, texts, audio recordings, and activities. It is a free student-centered online toolkit that allows unrestricted access for students to visually explore more than a million Smithsonian artifacts, artworks, documents, and specimens. The Smithsonian Center for Learning and Digital Access, a central office of the Smithsonian Institution, developed and manages the Learning Lab. 
The website's tools enable users to easily organize and customize the resources to make them their own. Best of all, you can easily share what you've learned with friends, teachers, colleagues, and other learners around the world. Educators can visually explore more than 2 million resources from across the Smithsonian, so it's easy to find something of interest. 
This digital museum resource often includes potential discussion questions, quizzes, and assignments for the classroom, but the adaptability of the site is even more fascinating: it allows students to create their own online collections to share and collaborate with the larger academic community. The Learning Lab is accessible through desktop, laptop, and tablet devices. 
National Geographic Kids
National Geographic Kids magazine makes it fun to learn about the world. Kids focus on all the subjects of most interest to kids ages 6 to 14. Magazine lets kids explore and learn about wildlife, science, technology, popular culture, history, and much more. Plus, National Geographic Kids also includes large pullout posters and maps, collectible trading cards, contests, stickers, and a colorful Fun Stuff section devoted to challenging games, puzzles, and comics. 
National Geographic Kids magazine is the ultimate destination for kids that are curious about the world, with each issue containing a superb blend of photos, fun facts, and articles presented in a lively style, making it perfect for keeping kids engaged with educational information. The kid is an exciting monthly read for boys and girls that makes learning fun. 
These activities don't even begin to scratch the surface of the National Geographic Kids website. Allow an opportunity for your children to get excited about learning and develop an enriched global awareness. There's even a "Little Kids" section for the younger explorers in your house.
ABCmouse.com
ABCMouse is an online learning program for children ages 2 to 8 years old that's available on iOS and Android devices. It is an online preschool-kindergarten curriculum that teaches letters, letter sounds, counting, math, art, science, music, and phonics. Teachers can use ABCmouse for Teachers in the computer lab, at rotating stations, or with the whole class, although not all activities will lend themselves well to use on a projector or an interactive whiteboard. 
ABCMouse divides its activities into levels based on difficulty and age appropriateness. There are ten levels, with level one being ideal for 2-year-olds and level 10 being ideal for 8-year-olds. Offering an entire learning path within various lands, your child will follow through with different lessons and progress throughout the program once they've mastered new skills.
ABCMouse has more than 10,000 activities, covers multiple categories, and offers a step-by-step curriculum developed by teachers and educational professionals. The child starts out at the level that you choose and progresses through various areas by working virtual puzzles, singing songs, visiting the zoo and farm, reading books, virtual coloring, etc. A simple tracking system gives teachers a general idea of the activities their students have completed, though not how well they're understanding the material.
Some Other Learning Apps for Kids
ClassDojo
DragonBox
Quick Maths
Science360
Crossword Puzzles
Flow Free
Spelling Stage
My Molecularium
Hungry Caterpillar Play School
BrainPOP Jr.
Moose Math
Little 10 Robot: Goodness Shapes
Number Run
Tic Toc Time
Read Along by Google
Montessori Crosswords for Kids
Audible
Epic!
Write About This
HOMER Learn & Grow
Stack the States
Barefoot World Atlas
Presidents vs. Aliens
ScratchJr
Peekaboo Barn
What's in Space?
Seek by iNaturalist
Best Musical Basics
Melody Jams
Hungry Caterpillar Play School
Quick Math Jr.
Stack the States 2
Toca Hair Salon 3
Lightbot: Code Hour
Starfall ABCs
Brainpop Jr. Movie of the Week
Swift Playgrounds
Nick Jr.
Elmo Loves 123s
Goodness Shapes
Winky Think Logic Puzzles
Busy Shapes
Prodigy
Google Arts and Culture
Quizlet
Hopscotch
Also See:- List of Online Learning Platforms
If you enjoyed this post, share it with your friends. Do you want to share more information about the topic discussed above or do you find anything incorrect? Let us know in the comments. Thank you!