Top 3 Cloud Data Storage Providers | Storing and syncing documents and media in the cloud is a huge convenience. It lets you easily share and access files from anywhere and restore them if something goes wrong. Cloud storage and backup provider offering scalability can save you time, stress, and money, because you can then upgrade storage and access advanced tools when required. Choosing the best cloud storage provider is difficult. Competition between big corporate players like pCloud, Dropbox, Sync.com, MEGA, Google Drive, and OneDrive has been a boon for consumers. Everyone has some advantages and limitations. In this article, we will discuss the top best cloud storage services.
1. pCloud
pCloud is one of the most popular cloud storage options out here. Founded in Switzerland, pCloud was a relative newcomer to the online storage market when it began in 2013. Switzerland is not a part of any intelligence alliances (not included in 14 eyes) and holds strict laws for privacy and security, which makes pCloud quite safe to use. They are mostly famous for lifetime plans and privacy-friendly policies. It has garnered over 16 million users in the last few years.
Pricing of pCloud
It offers a range of affordable storage plans and gives away a decent amount of free cloud storage. With a free pCloud account, you get 10 GB of free storage space which can be unlocked by completing tasks like installing the desktop app, verifying your email id, etc.
It also offers additional Crypto protection that will encrypt your sensitive files additionally. If you want more storage you will have to upgrade your plan.
| | | | |
| --- | --- | --- | --- |
| Storage | MONTHLY | ANNUAL | LIFETIME |
| 10 GB | $0 | $0 | $0 |
| 500 GB | $4.99/month | $49.99/month | $175/once |
| 2 TB | $9.99/month | $99.99/month | $350/once |
In the Lifetime plan, You do not need to worry about your files ever again-they will be kept safe and secure with us. For a lifetime! No monthly or yearly payments, no further costs, just one payment to get your lifetime cloud storage.
Features of pCloud
pCloud is a powerful cloud storage service with lots of features. pCloud offers all the essential features you'd expect from a sharing and syncing service. To begin with, in addition to an intuitive web interface, pCloud also has clients for all the major desktop operating systems including Windows, macOS, and Linux as well as apps for Android and iOS.
The upload and download speeds of pCloud are quite good for a cloud storage service. I tried uploading and downloading an 824 MB video file with a network speed of 100 MB/s. In case of emergencies like accidental deletion of your important files, or corruption of data because of a virus, the Rewind feature helps recover and restore previous versions of your account to any date and time in the past 30 days.
pCloud provides very smooth and quick sync options. With the Selective Sync feature, you can select the folders from your device you want to sync on the cloud. pCloud always makes sure that you have an intact copy of your file available for download by storing 5 separate copies of every file you upload onto their servers in 3 different locations at a secure data center facility in Dallas, Texas. It is the ultimate safeguard against files being lost, stolen, or corrupted.
pCloud Security and Privacy
You get AES 256-bit encryption, one of the most secure encryption methods used today. It is industry-standard encryption that is used by most companies. For extra privacy, Two Factor Authentication features are also available. Encryption is secured during file transfer and storage, however, for a more complete guarantee, non-business users will want to pay extra for client-side encryption which means that content is fully encrypted end-to-end.
With pCloud Encryption, you can protect your most sensitive information, your private documents, on any device. No one, even pCloud's administrators, will have access to your content. You hold the key to your online privacy.
The pCloud Encryption Challenge
There is one cloud platform that challenged over 600 hacking organizations, with over 2800 participants, from 92 countries, with a $100,000 reward to anyone who could hack into their encryption. Given 180 days to complete the challenge and in six months, there were zero hacks.
The pCloud Crypto Hacking Challenge is Now Over. Here is the result of this challenge:-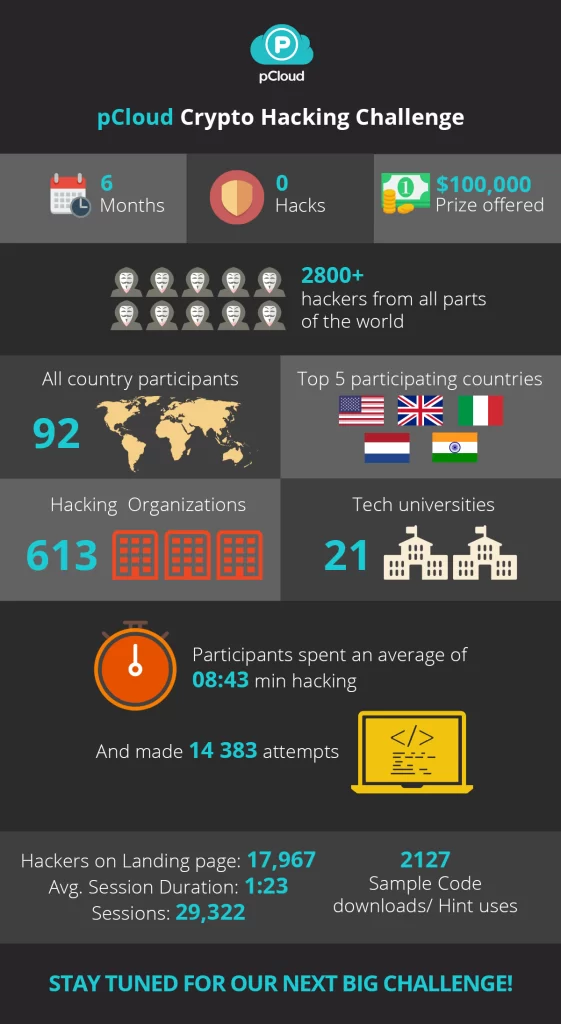 No one succeeded in beating our client-side encryption and getting $100,000 (or their Bitcoin equivalent). After 6 months of hard hacking efforts, nobody succeeded in breaking our pCloud Crypto! This once again proves Mnemonic's testimony that we have done a great job. You can be 100% sure that with pCloud Crypto, the files of millions are truly safe.
2. Google Drive
Google Drive is a file storage and synchronization service developed by Google. Launched on April 24, 2012, Google Drive allows users to store files on their servers, synchronize files across devices, and share files. In addition to a website, Google Drive offers apps with offline capabilities for Windows and macOS computers, and Android and iOS smartphones and tablets.
Google Drive is one of the most popular cloud storage services on the market today, with more than 1 billion users worldwide. Google Drive offers an excellent suite of features for teams and individuals alike. Google Drive is popular for a reason and is a service that many people consider before purchasing anything else due to its excellent collaboration functions and flexible integrations.
Google Drive impresses easily when it comes to the key areas you look for a cloud storage solution to offer. The web interface and mobile apps allow you to get at your files (and edit them) from anywhere. Also, the sharing options strike an excellent balance, walking the line between functionality and ease of use.
Built-in Protection: As a cloud-native service, Google Drive offers built-in protection from the get-go to help protect your documents, data, and files from malware, spam, and ransomware.
Most of these drawbacks for Google Drive certainly won't break the product, but you should still consider them before investing, especially when it comes to limitations of any kind. Google Drive currently has limitations on file size for up to 5TB per user.
Google Drive Pricing
The free tier for Google Drive includes 15GB of cloud storage space for free, which is spread across all of your Google apps including Gmail and Google Photos. Extra space is served through what's called Google One, with pricing starting at $1.99 (£1.59) a month for 100GB of space on the Basic plan. The Standard plan, with 200GB, costs $2.99 (£2.49) per month, with top-tier 2TB Premium subscriptions costing $9.99 (£7.99) per month.
3. Microsoft OneDrive
OneDrive is a popular cloud storage solution for students, professionals, and businesses. It comes with plenty of fantastic features, especially for those using Microsoft apps. It isn't perfect, however, so we'll break down the full service to help you decide if it's right for you. OneDrive is easier to call a success now, particularly for those that spend a lot of time using Windows or the various Office applications.
Microsoft OneDrive has fast, reliable performance and plenty of features, but it does have a major flaw: privacy. The service is lacking zero-knowledge encryption, which opens the door to unwanted access. That said, Microsoft is slowly implementing features that make accounts more secure and man-in-the-middle attacks more difficult (more on that later).
Microsoft OneDrive is the one that in my opinion has more value than the others and is a value for money for what it also offers its Microsoft services. It gives users quick access to all of their photos and documents. OneDrive allows users to keep all of their favorite photos and videos safe, even if something happens to their device, with remote device wiping technology.
Microsoft OneDrive works similarly to other well-known consumer cloud storage options, such as Dropbox, Google Drive, and iCloud Drive. You specify the files and folders you want to be backed up, and they get automatically synced with copies in the cloud, along with the other computers and devices that you've got OneDrive set up on.
The main disadvantage of using OneDrive is the lack of privacy. While your files are kept safe through encryption, that lack of zero-knowledge means Microsoft can access and share your data should it deem it justifiable.
Conclusion
Security is one of the biggest concerns for cloud storage providers. Below is a timeline of data breaches for some of the big names on the market. Microsoft Azure- A quick glimpse reveals 17 headlines involving Microsoft since 2010. A timeline of Microsoft Azure breaches can be found at Microsoft One Drive – Created on Dec 9, 2021. OneDrive Hacked? – Microsoft Community Forum. In Microsoft Community Forum a member advised: "in future do NOT trust OneDrive with the only copy of your files."
AWS- A quick glimpse reveals 18 headlines involving Amazon since 2012. A timeline of Amazon breaches can be found. Google Cloud Platform- A quick glimpse reveals 11 headlines involving Google since 2009. A timeline of Google Cloud Platform data breaches can be found. pCloud is the clear choice for peace of mind.