Educational games for kids | Childhood is an important part of human development. It's the age when you first expose yourself to a lot of new information. Here are some games that are sometimes called "edutaining." Think of them as fun games that also teach something. Thus, parents seem to really like teaching their kids about things with learning games that are also fun for the kids.
Best of all, many high-quality games for free learning. Some of the best kid's online learning games include Sheppard Software, Cool Math Games, FunBrain, National Geographic Kids, PBS Kids, Starfall Kids Games, ABCya.com, etc.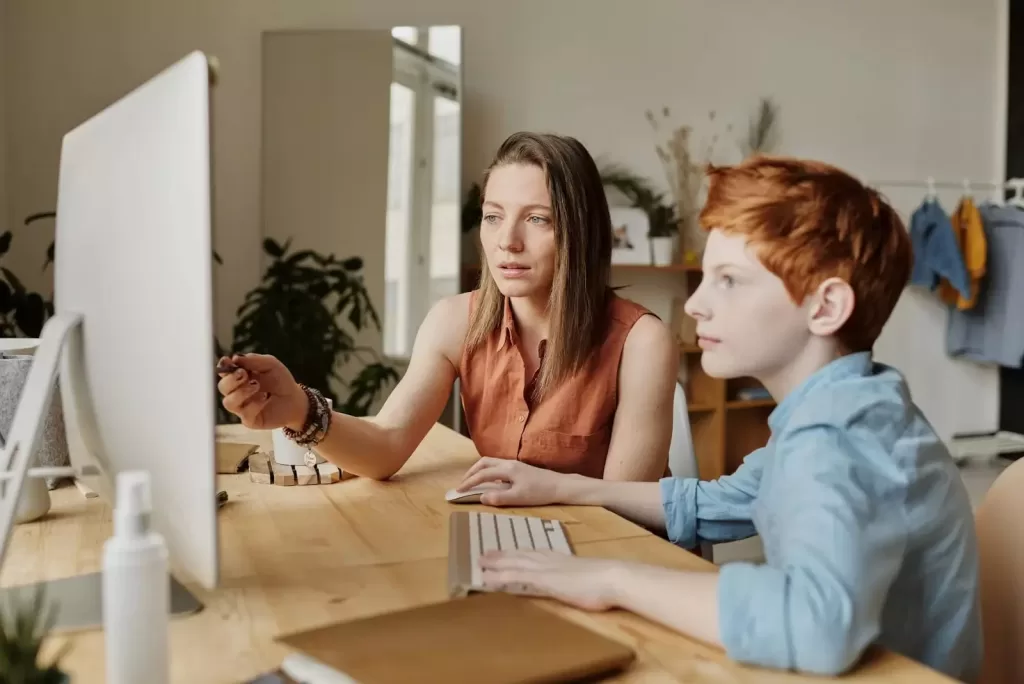 Sheppard Software
Sheppard Software ↗ offers hundreds of free, online, learning games for kids. There's a ton of content on this site, for every age and ability level. The "Sheppard" in Sheppard Software, Brad Sheppard has been designing educational software since 1982 and the mind that started sheppardsoftware.com. He has five US Patents. Brad is a programming extraordinaire. This software is the perfect solution for some good, engaging media for my Kindergarten aged son. 
The creative force behind Sheppard Software's direction toward colorful, animated games and materials on the site. Jasmine designs animate and adds her graphical touch and education background to the majority of our activities made under her watch. She is also the voice and creator of much of our sound and sound effects. This software would work well for family use, as well as for homeschoolers, and in school computer labs. 
Sheppard Software features games spanning a multitude of subjects including math, science, and language arts. In addition to games, there are activities, quizzes, and articles for your entertaining pleasure. Also, the website works for multiple age groups, making the website a benefit for preschool and up.
Cool Math Games
Cool Math Games ↗ is an online web portal that hosts HTML and Flash web browser games targeted at children and young adults. This is our brain-training site, for everyone, where logic & thinking meet fun & games. These games have no violence, no empty action, just a lot of challenges that will make you forget you're getting a mental workout.
Cool Math Games is operated by Coolmath LLC and first went online in 1997 with the slogan "Where logic & thinking meets fun & games. Recently named one of the internet's all-time favorite websites by Popular Mechanics, Coolmath Games brings your favorite logic and learning games to your mobile devices. Coolmath Games lets you train your brain in all sorts of ways.
Funbrain
FunBrain ↗ is an educational game site for grades K-8. A helpful tool for students to use when they finish an assignment, or for teachers to use as a fill-in activity for students who have time for more practice and students could certainly kill some time on the site. FunBrain's games help students build on what they have learned in class and acquire new skills in reading, math, and problem-solving. 
FunBrain.com offers a lot of fun, interactive learning games for kids in grades K-8, plus tools for parents and teachers. Kids at the preschool through grade 8 levels, offers more than 100 fun, interactive games that develop skills in math, reading, and literacy. Kids can search by grade level or topic. Teachers could show some of the videos to the whole class or use the books as a read-aloud displayed on the screen. This makes the site a great supplement for students who may need extra practice outside of school hours.
National Geographic Kids
National Geographic Kids ↗ magazine makes it fun to learn about the world. Kids focus on all the subjects of most interest to kids ages 6 to 14. Magazine lets kids explore and learn about wildlife, science, technology, popular culture, history, and much more. Plus, National Geographic Kids also includes large pullout posters and maps, collectible trading cards, contests, stickers, and a colorful Fun Stuff section devoted to challenging games, puzzles, and comics. 
National Geographic Kids magazine is the ultimate destination for kids that are curious about the world, with each issue containing a superb blend of photos, fun facts, and articles presented in a lively style, making it perfect for keeping kids engaged with educational information. The kid is an exciting monthly read for boys and girls that makes learning fun. 
These activities don't even begin to scratch the surface of the National Geographic Kids website. Allow an opportunity for your children to get excited about learning and develop an enriched global awareness. There's even a "Little Kids" section for the younger explorers in your house.
PBS Kids
PBS Kids ↗ is the brand for most of the children's programming aired by the Public Broadcasting Service (PBS) in the United States. Parents need to know that PBS KIDS is an educational, jam-packed-with-fun site full of games, videos, and quests featuring kids' favorite PBS television show characters. Try sing-a-long songs, sorting and counting games, watch videos, and more.
PBS KIDS is a simple, safe first online experience for preschoolers, we don't recommend they surf around on the Internet, so make sure they stay on this site by sitting right next to them and helping them learn safe and fun online skills. Of course, there are new friends, too, such as Peg + Cat. Select games by character, difficulty level, or latest available. The educational site also has a huge library of printables for your child to work on.
Kids who are learning basic skills and already know many of the characters featured here from popular PBS shows such as Sesame Street and Curious George will enjoy playing games with their television friends.
Starfall Kids Games
Starfall ↗ is owned and managed by the Starfall Education Foundation. It is a nonprofit organization, was conceived by Dr. Stephen Schutz. As a child, Stephen had difficulty learning to read due to dyslexia. He wanted to create a website with untimed, multisensory interactive games that allow children to see, hear, and touch as they learn. The main demographic is preschoolers and kindergarteners. It is a partly free web-based integrated environment to teach basic reading and writing, math, and arts, from age 3 to 8 (US prekindergarten, kindergarten to grade 3). Originally, the environment focused on reading skills.
Starfall activities are research-based and align with Individual and Common Core State Standards in English language arts and mathematics. Students from a variety of learning backgrounds (ELLs, those with language delays, etc.) can use Starfall to explore literacy concepts at their own pace or to build basic math skills and fluency. Starfall's emphasis on phonemic awareness, systematic sequential phonics, and common sight words in conjunction with audiovisual interactivity has proven effective in teaching emergent readers.
Established in 2002, the website is free to use and does not use advertising to generate revenue. The cost of running it is instead covered by money from Blue Mountain Arts, as well as the money made from its workbook printouts." It is widely used in schools that serve children with special needs and learning difficulties. Its low-cost membership program expands the free content to include animated songs, mathematics, and reading activities spanning K-3. Membership also supports the production of new books, songs, educational games, and movies.
ABCya.com
ABCya! ↗ is a free educational games website that's organized by grade level and subject area. Its provides over 300 fun and educational games for grades PreK through 6. With a bit of help from adults, it's easy for kids to access tons of games. ABCya.com was founded in 2004 by Alan Tortolani. Its activities are designed by parents and educators, who understand that children learn better if they are having fun. Games are categorized by grade and subject, and cover topics such as multiplication, parts of speech, typing, pattern recognition, and more. 
ABCYA even has games that are just plain fun (and safe) to play! With so much variety, there is sure to be something for kids at all learning levels and styles. The innovation of a grade school teacher, ABCya is an award-winning destination for elementary students that offers hundreds of fun, engaging learning activities. All content is free, though teachers can pay for a subscription to use an ad-free version. Games are also available on mobile devices with the subscription. Millions of kids, parents, and teachers visit ABCya.com each month, playing over 1 billion games last year.
Some Other Educational Games for Kids
BBC Schools: Games
Mr. Nussbaum
Poptropica
Primary Games
Arcademic Skill Builders
Animal Jam
Captain Toad: Treasure Tracker
Prodigy
Thinkrolls 2
Tinybop Games
Dragonbox Math and Chess Games
Endless Alphabet4
Stop Motion Studio
Home Base by Scholastic
Typetastic
Gamestar Mechanic
Code Karts
Nancy Drew: Codes & Clues  
Free TV-related games for kids
CBC Kids
Nickelodeon 
Cartoon Network 
Disney LOL
Budge World
Toontastic 3D 
Quick, Draw!
LEGO games
Poptropica
Roblox 
Also See:- Best Free Learning Websites for Kids
If you enjoyed this post, share it with your friends. Do you want to share more information about the topic discussed above or do you find anything incorrect? Let us know in the comments. Thank you!