Steve Jobs quotes on leadership | Steve Jobs best quotes | Steve Jobs best quotes on startups | Steve Jobs best quotes on vision and leadership | Life lessons & best quotes given by Steve Jobs | Inspiration, Motivational leadership quotes or words given by Steve Jobs | Motivational and Inspiration leadership Words by Steve Jobs.
Steven Paul Jobs was an American inventor, designer, and entrepreneur who was the co-founder, chief executive, and chairman of Apple Computer. Apple's revolutionary products, which include the iPod, iPhone, and iPad, are now seen as dictating the evolution of modern technology.
What I'm best at doing is finding a group of talented people and making things with them.
What I do all day is meet with teams of people, and work on ideas, and solve problems, to make new products, to make new marketing programs, whatever it is.
On meetings: We don't have a lot of processes at Apple, but that's one of the few things we do just to all stay on the same page.
Companies, as they grow to become multi-billion-dollar entities, somehow lose their vision. They insert lots of layers of middle management between the people running the company and the people doing the work. They no longer have an inherent feel or a passion about the products.
The people who are doing the work are the moving force behind the Macintosh. My job is to create a space for them, to clear out the rest of the organization and keep it at bay.
The greatest people are self-managing – they don't need to be managed. Once they know what to do, they'll go figure out how to do it. What they need is a common vision. And that's what leadership is having a vision; being able to articulate that so the people around you can understand it; and getting a consensus on a common vision.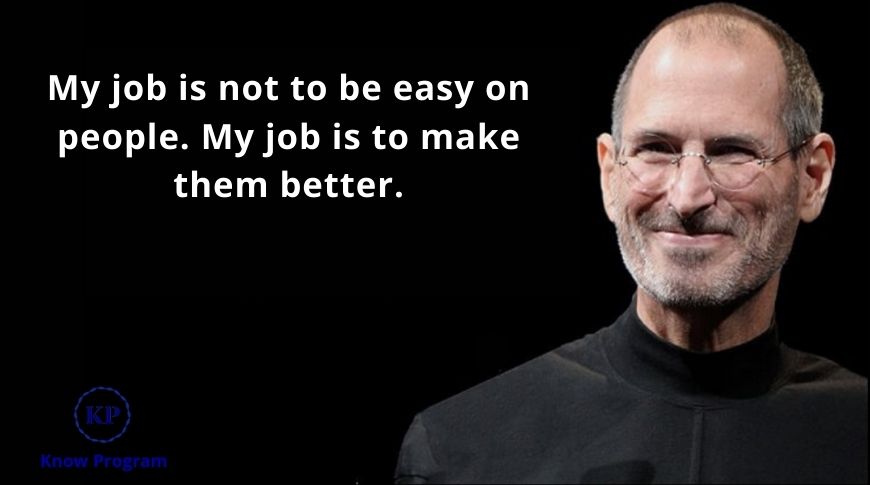 My job is not to be easy on people. My job is to make them better.
On why he is brutal to most colleagues: I'm brutally honest, because the price of admission to being in the room with me is I get to tell you your full of shit if you're full of shit, and you get to say to me I'm full of shit, and we have some rip-roaring fights. And that keeps the B players, the bozos, from larding the organization, only the A players survive. And the people who do survive, say, 'Yeah, he was rough.' They say things even worse than 'He cut in line in front of me,' but they say, 'This was the greatest ride I've ever had, and I would not give it up for anything.'
We've got 25,000 people at Apple. About 10,000 of them are in the stores. And my job is to work with sort of the top 100 people, that's what I do. That doesn't mean they're all vice presidents. Some of them are just key individual contributors.
When a good idea comes, you know, part of my job is to move it around, just see what different people think, get people talking about it, argue with people about it, get ideas moving among that group of 100 people, get different people together to explore different aspects of it quietly, and, you know – just explore things.
My job is to pull things together from different parts of the company and clear the ways and get the resources for the key projects. And to take these great people we have and to push them and make them even better, coming up with more aggressive visions of how it could be.
Somebody once told me, "Manage the top line, and the bottom line will follow." What's the top line? It's things like, why are we doing this in the first place? What's our strategy? What are customers saying? How responsive are we? Do we have the best products and the best people? Those are the kind of questions you have to focus on.
My job is to say when something sucks rather than sugarcoat it.
---
Steve Jobs Quotes on Teamwork
The best ideas have to win.
My model for business is The Beatles. They were four guys who kept each other's kind of negative tendencies in check. They balanced each other, and the total was greater than the sum of the parts. That's how I see business: great things in business are never done by one person, they're done by a team of people.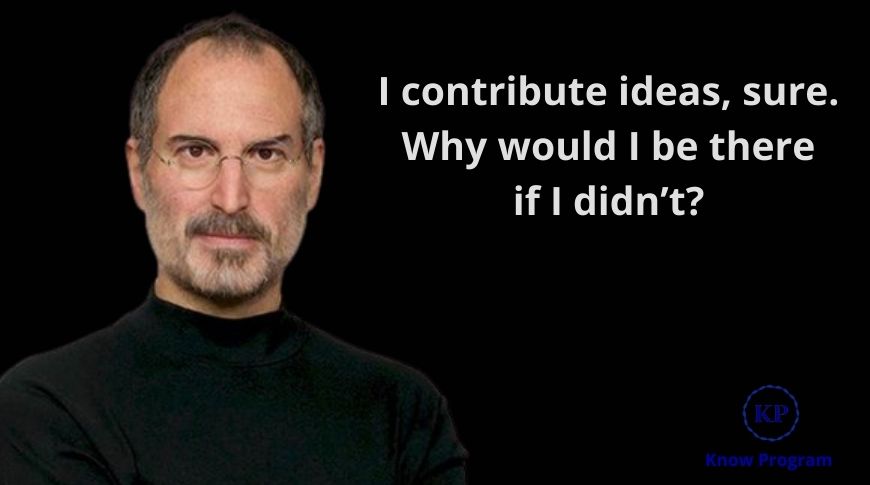 My job is not to be easy on people. My job is to make them better.
When you work with somebody that close and you go through experiences like the ones we went through, there's a bond in life. Whatever hassles you have, there is a bond. And even though he may not be your best friend as time goes on, there's still something that transcends even friendship, in a way.
We have wonderful arguments. If you want to hire great people and have them stay working for you, you have to let them make a lot of decisions and you have to, you have to be run by ideas, not hierarchy. The best ideas have to win, otherwise, good people don't stay.
If you enjoyed this post, share it with your friends. Do you want to share more information about the topic discussed above or do you find anything incorrect? Let us know in the comments. Thank you!