Steve Jobs Quotes about Marketing and Collaboration | Steve Jobs best quotes | Top 25+ Steve Jobs best quotes | Steve Jobs best quotes on startups and marketing | Steve Jobs best quotes on vision | Life lessons & marketing quotes given by Steve Jobs | Inspiration, Motivational, business, and marketing quotes or words given by Steve Jobs | Motivational and Inspiration Words by Steve Jobs.
Steven Paul Jobs was an American inventor, designer, and entrepreneur who was the co-founder, chief executive, and chairman of Apple Computer. Apple's revolutionary products, which include the iPod, iPhone, and iPad, are now seen as dictating the evolution of modern technology.
To me, marketing is about values. 
Marketing is about values. It's a complicated and noisy world, and we're not going to get a chance to get people to remember much about us. No company is. So we have to be really clear about what we want them to know about us.
We don't stand a chance of advertising with features and benefits and with RAMs and with charts and comparisons. The only chance we have of communicating is with a feeling.
Here's to the crazy ones, the misfits, the rebels, the troublemakers, the round pegs in the square holes… the ones who see things differently — they're not fond of rules… You can quote them, disagree with them, glorify or vilify them, but the only thing you can't do is ignore them because they change things… they push the human race forward, and while some may see them as the crazy ones, we see genius, because the ones who are crazy enough to think that they can change the world, are the ones who do.
You can't just ask customers what they want and then try to give that to them. By the time you get it built, they'll want something new.
You saw the 1984 commercial. Macintosh was basically this relatively small company in Cupertino, California, taking on the Goliath, IBM, and saying, "Wait a minute, your way is wrong. This is now the way we want computers to go. This is not the legacy we want to leave. This is not what we want our kids to be learning. This is wrong and we are going to show you the right way to do it and here it is. It's called Macintosh and it is so much better.
I'm as proud of many of the things we haven't done as the things we have done. Innovation is saying no to a thousand things.
Bottom line is, I didn't return to Apple to make a fortune. I've been very lucky in my life and already have one. When I was 25, my net worth was $100 million or so. I decided then that I wasn't going to let it ruin my life. There's no way you could ever spend it all, and I don't view wealth as something that validates my intelligence.
It's a very complicated world. It's a very noisy world. And we are not gonna get a chance to get people to remember much about us. No company is. So we have to be really clear on what we want them to know about us.
It's not about pop culture, and it's not about fooling people, and it's not about convincing people that they want something they don't. We figure out what we want. And I think we're pretty good at having the right discipline to think through whether a lot of other people are going to want it, too. That's what we get paid to do. So you can't go out and ask people, you know, what the next big [thing.] There's a great quote by Henry Ford, right? He said, 'If I'd have asked my customers what they wanted, they would have told me 'A faster horse'.
I've always been attracted to the more revolutionary changes. I don't know why. Because they're harder. They're much more stressful emotionally. And you usually go through a period where everybody tells you that you've completely failed.
I had no idea what I wanted to do with my life and no idea how college was going to help me figure it out…And here I was spending all of the money my parents had saved their entire life. So I decided to drop out and trust that it would all work out OK. It was pretty scary at the time, but looking back it was one of the best decisions I ever made.
Remembering that you are going to die is the best way I know to avoid the trap of thinking you have something to lose. You are already naked. There is no reason not to follow your heart.
The only problem with Microsoft is they just have no taste. They have absolutely no taste. And I don't mean that in a small way, I mean that in a big way, in the sense that they don't think of original ideas, and they don't bring much culture into their products.
Picasso had a saying – 'good artists copy, great artists steal' – and we have always been shameless about stealing great ideas.
Creativity is just connecting things. When you ask creative people how they did something, they feel a little guilty because they didn't really do it, they just saw something. It seemed obvious to them after a while.
Things don't have to change the world to be important.
---
Steve Jobs Quotes On Collaboration
The best ideas have to win.
We have wonderful arguments. If you want to hire great people and have them stay working for you, you have to let them make a lot of decisions and you have to, you have to be run by ideas, not hierarchy. The best ideas have to win, otherwise, good people don't stay.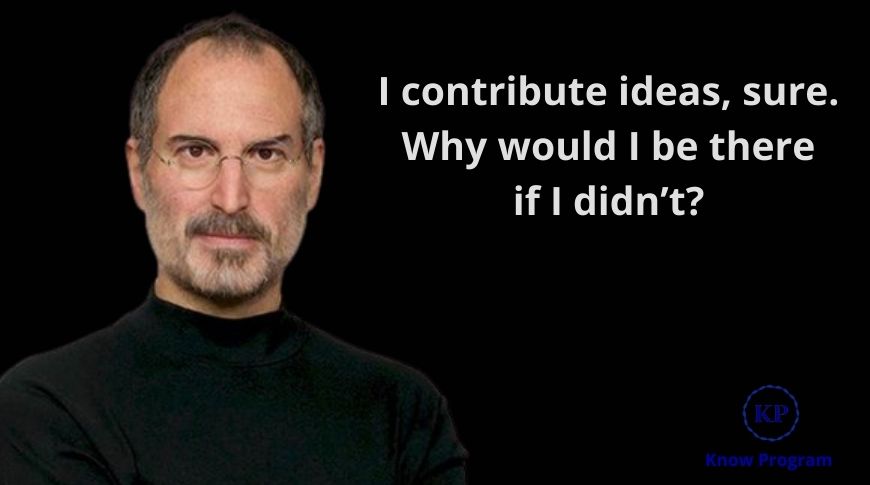 I contribute ideas, sure. Why would I be there if I didn't?
My model for business is The Beatles. They were four guys who kept each other's kind of negative tendencies in check. They balanced each other, and the total was greater than the sum of the parts. That's how I see business: great things in business are never done by one person, they're done by a team of people.
When you work with somebody that close and you go through experiences like the ones we went through, there's a bond in life. Whatever hassles you have, there is a bond. And even though he may not be your best friend as time goes on, there's still something that transcends even friendship, in a way.
If you enjoyed this post, share it with your friends. Do you want to share more information about the topic discussed above or do you find anything incorrect? Let us know in the comments. Thank you!